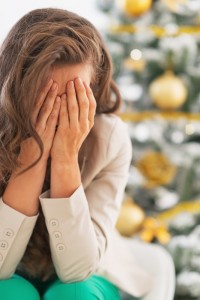 Many of us think that this time of year should be filled with joy and excitement.  Christmas, Hanukkah or any other winter celebration, are supposed to be times we enjoy each others company, rest from work, look back at everything we have achieved in the year and look forward to a new year and new experiences.
However for many of us this is not the reality.
Many of us may be anxious and worried about spending holiday time with family that we do not like, or who judge us badly for the decisions we have made in our lives.  We may have to spend time with an ex-partner for the sake of our children.  We may have spent years trying to free ourselves of the pain and guilt of having these people in our lives only to have to be reunited with them at this time.  It may not take long before all those negative feelings we had  – feelings of anger, anxiety, frustration, or fear – return.
We often try to put on a brave face during these times, thinking that if we don't hide how we feel we will spoil the occasion for others around us.  This can make us feel alone in a sea of 'smiling happy people', and guilty for feeling the way we do.
For others this time of year can make us realise how isolated we are.  We may not have family or friends who we can spend time with, and we feel that no one is thinking of us during the celebrations.
Whatever your circumstances may be, you don't need to feel alone.  Counselling doesn't have to be about trying to overcome a specific problem or worry. A counsellor can be there to just hear you, and to truly understand how lonely things can feel for you at this time.
If you feel this way during the Christmas holidays, or any other time of year, and feel that counselling could help, then please contact me on the details on this page to arrange a first session together.
Remember, you don't have to feel like you are all alone this Christmas.
Written by Derek Lovell of New Thinking Therapy.